Health, Safety & Security
Goal zero approach
Health,
Safety & Security
Sibed Transport Co. Ltd is a leader in the transportation business in terms of safety performance and safety standards. Since 1997 we are proud to have never had any fatal incident. Our GOAL Zero approach and HSSE statistics are evidence of this remarkable achievement.
In addition we:
Manage all our risks to As Low As Reasonably Practicable (ALARP) using the Hazards and Effects Management Process (HEMP) and Security Risk Assessment (SRA)
Oversee road transport safety through the application of the best standards in Driver, Vehicle and Journey Management (DVJM)
Ae proud to have one of the best emergency responses in the industry, with fully stocked emergency response and patrol vehicles
Have set high safety standards and are continuously audited by all our clients and found to be highly satisfactory
Have been recognised as a professional haulier, and have acquired ISO certification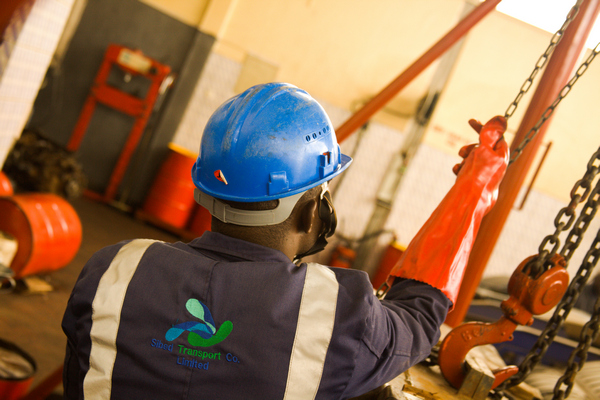 Key Policy Areas –
Health, Safety & Security
MSDS Training: Employees are provided comprehensive training on the safe handling, storage and transportation of various products being handled in the warehouse. MSDS copies are maintained in the office for quick reference and also provided to drivers and forklift operators
Forklift Operations – provided with Safe Operating Skills training by approved training institutes. There are designated speed limits to be strictly followed by operators. All forklifts are fitted with seat belt and necessary safety equipment. Designated areas have been marked for forklift movement
Manual Handling – Operators are provided with training on safe procedure for manual handling. There are power pallet machines available to move any heavy load. Operators are also trained on correct lifting procedures.
Safety Walkabout – Regular safety walkabouts are done by management staff with a view to identify any unsafe conditions within the warehouse and take necessary measures to address them. The objective is to ensure a safe working environment for all staff
Safe Working Load – Forklifts, rack structures and tail lifts undergo routine inspection and load testing by competent authorities. Safe working loads are also mentioned on forklifts, rack structures and tail lifts.